February 2009 Featured Band
Every month, a randomly selected band will be featured here. If your band wants to be featured on this page,
click here
.
Barrikkade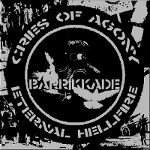 http://www.myspace.com/barrikkade
D-beat a.k.a. hardcore punk.
Started: 2006
Members:
Matt - Vocals
Andy - Guitar/Vocals
Yogi - Guitar
Gabe - Bass
Serg - Drums
Location: Anaheim/Fullerton, California
Influences: Discharge, Kaaos, Anti-Cemix, Disclose, Alternate System.
Sounds Like: Sounds like our influences!
Next Shows:

Copyright © 2005-2023 Jack, All Rights Reserved.
Powered by: