December 2008 Featured Band
Every month, a randomly selected band will be featured here. If your band wants to be featured on this page,
click here
.
Dick Politic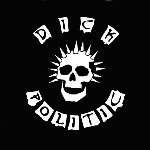 http://www.myspace.com/dickpolitic
Very Political, with an old-school punk sound you just don't hear anymore.
Started: 2003
Members:
Dick Politic - Lead Vocals/Bass
Vinny Malachi - Back-up Vocals/Guitar
Ryan - Drums
Location: Anaheim, CA
Influences: Circle Jerks, JFA, GG Allin, Black Flag, Regan Youth, Anti-Nowhere League, Aggression.
Sounds Like: You decide.
Next Shows:

Copyright © 2005-2023 Jack, All Rights Reserved.
Powered by: