June 2009 Featured Band
Every month, a randomly selected band will be featured here. If your band wants to be featured on this page,
click here
.
Tora! Tora! Tora!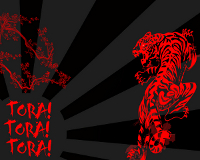 http://www.myspace.com/toratoratoraoc
Tora! Tora! Tora! started with Mike and Matt(both formerly of KBH) working together on new material for a totally different sounding band. Trial and error was the name of the game as we went through a few drummers and even tried using Don(formerly of KBH) as lead singer. Eventually they met Squirrel through a mutual friend and the chemistry was apparent from the first practice. A bit later Ryan Mudd(Ryan Mudd and the Stuff) auditioned to be singer and after just a few beer fueled rock n roll sessions we knew we had our new lead singer. Ryan also took over second guitar and became the go to utility guy for other instruments. Tora! Tora! Tora! just finished recording our first single at Earth's Edge Studios in Costa Mesa with more recordings and shows on the way soon.
Started: 2009
Members:
Ryan Mudd - Lead Vocals/Lead Guitar
Mike - Rhythm Guitar/Backups
Matt - Bass Guitar/Backups
Squirrel - Drums/Backups
Location: Orange County, CA
Influences: The Ramones, Turbonegro, The Damned, The Adicts, Bowie, Stryper, Buzzcocks, The Stranglers, Jesse and the Rippers.
Sounds Like: 70's punk rock n roll
Next Shows:
June 5th at the Gypsy Lounge in Lake Forest with The Gears, Social Task and the Pegs
June 12th at the Knitting Factory with Boats!, Rough Kids and more
June 27th at the OC Rock Fest/Tropics Lounge

Copyright © 2005-2023 Jack, All Rights Reserved.
Powered by: