May 2007 Featured Band
Every month, a randomly selected band will be featured here. If your band wants to be featured on this page,
click here
.
Hang Um High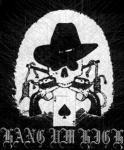 Fast loud punk band from Cleveland, OH
Started: Jan. 2006
Members:
Dave - Guitar and Vocals
Jim - Drums and Vocals
Pete - Guitar and Back up vocals
Josh - Bass
Location: Cleveland, OH
Influences: Old Punk
Sounds Like: Old Punk
Next Shows:

Copyright © 2005-2023 Jack, All Rights Reserved.
Powered by: