November 2008 Featured Band
Every month, a randomly selected band will be featured here. If your band wants to be featured on this page,
click here
.
It Never Ends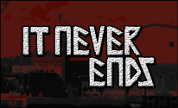 http://itneverends.tk
We are a rock band from Chicago, Illinois. We have been recieved well by the audiences in all the different venues we have played. We are playing with "Cute Is What We Aim For" in Milwaukee on August 9th and we are going on our first tour next summer.
Started: Winter of 2008
Members:
Ed Wimp - Vocals and guitar
Cory Keane - Guitar
Chris Daker - Bass and backup vocals
Sean Keane - Drums
Location: Chicago
Influences: Alkaline Trio, Lucky Boys Confusion, Senses Fail, Silvertein, Ludo, Local H, Brand New
Sounds Like: At The Drive In, Brand New
Next Shows:
Billies Blues - November 29th
Congress Theater - December 6th

Copyright © 2005-2023 Jack, All Rights Reserved.
Powered by: