September 2007 Featured Band
Every month, a randomly selected band will be featured here. If your band wants to be featured on this page,
click here
.
Big Mess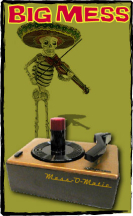 http://myspace.com/bigmess1
Big Mess is a band of veteran punk rockers with a new project. If you like Iggy Pop, 999 or Stiff Little Fingers you will like the straight ahead style and antics of Big Mess.
Started: April 15th, 2005
Members:
Chad Carrier - Vocals and Bass
Steve Sutton - Vocals and Guitar
Ferd - Drums and Vocals
Location: Redondo Beach, CA
Influences: Iggy Pop, 999, Devo, 20/20, Stiff Little Fingers, GenX, Buzzcocks, X, David Bowie, Sex Pistols
Sounds Like:
Next Shows:
Sept 14th Suzys
1141 Aviation Blvd
Hermosa Beach CA 90254

Sept 21st Taco Beach
211 Pine Ave
Long Beach CA 90802

Sept 26th 14 Below
1348 14th St.
Santa Monica Ca 90404

Copyright © 2005-2023 Jack, All Rights Reserved.
Powered by: