May 2009 Featured Band
Every month, a randomly selected band will be featured here. If your band wants to be featured on this page,
click here
.
JDKz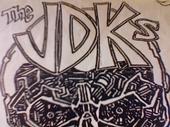 Classic Old School Punk.
Started: 1995
Members:
Mike Schwartz - Vocals/Guitar
Donna Meichtry - Drums
Soji-Bass
Location: Simi Valley, CA
Influences: Circle Jerks, UK Subs, MDC, DI, Code Of Honor, Bad Religion, Adolescents, Germs, GG Allin, Crass, Rudimentary Peni, Stalag 13, Life...
Sounds Like: People always say Circle Jerks! And that's cool with us.
Next Show:
May 2nd - Santa Maria, Ca. It's a daytime tatoo festival with a bunch of punk bands.

Copyright © 2005-2023 Jack, All Rights Reserved.
Powered by: