January 2008 Featured Band
Every month, a randomly selected band will be featured here. If your band wants to be featured on this page,
click here
.
Down And Out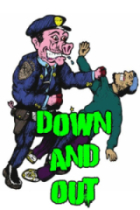 http://www.myspace.com/downandoutoly
4 guys into hardcore, punk, circle pits, and pizza!
Started: 2006
Members:
Seth - Guitar/Vocals
Heavy Hitter D - Drums
Tom - Bass
Josh - Vocals
Location: Olympia, Washington
Influences: Gorilla Biscuits, Sinking Ships, TSOL, The Temptations, Thin Lizzy, The Descendents, Agent Orange, MDC, Crucial Unit, many more
Sounds Like: Black Flag meets Youth Of Today
Next Shows:

Copyright © 2005-2023 Jack, All Rights Reserved.
Powered by: