August 2009 Featured Band
Every month, a randomly selected band will be featured here. If your band wants to be featured on this page,
click here
.
Long Shot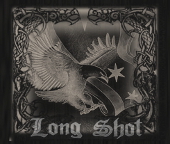 http://www.myspace.com/longshot
Long Shot is a 4 piece punk rock n roll band hailing from the north side streets of Chicago. They have been playing together now for 3 years at venues all around the city and suburbs with local and national acts. Long Shot prides themselves in writing about brotherhood, loyalty, and love for their city and country with lyrics that anyone can take to heart. Their high energy stage show will leave everyone in the crowd remembering what they witnessed and wanting more. They have been featured on Face First Records compilation Break Your Face which has sold well over 5,000 copies, and are featured on Earwax Factory compilation Hard Music for Hard Times set to release soon. They also plan on releasing a full length this summer with 12 new songs that will get the audience pumping their fists in pride and anger while singing along to the catchy, high energy melodies. Long Shot is still a new comer and although their name has been spreading, if they keep it up they will soon be a common name in the punk scene.
Started: 2004
Members:
Dan - Guitar & Vocals
Fred - Guitar
John - Drums
Ilija - Bass
Location: Chicago, Illinois
Influences: Angel City Outcasts, Bad Religion, Born To Lose, Brassknuckle Boys, The Briggs, Blitz, Cock Sparrer, Cockney Rejects, Dropkick Murphys, Dead Pets, Defiance, Ducky Boys, Exploding Hearts, Far From Finished, Flatfoot 56, Flogging Molly, Hot Water Music, Minor Threat, Misfits, Operation Ivy, Ramones, Rancid, Rose Tattoo, Social Distortion, Straight Laced, Street Brats, Street Dogs, Squared Off, The Casualties, The Unseen, plus many more!
Sounds Like: All of our influences.
Next Shows:

Copyright © 2005-2023 Jack, All Rights Reserved.
Powered by: