March 2010 Featured Band
Every month, a randomly selected band will be featured here. If your band wants to be featured on this page,
click here
.
Big City Bombers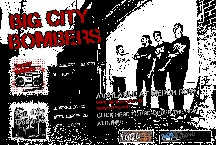 http://www.myspace.com/bigcitybombers
Formed in late 2007 the Big City Bombers are hitting the punk scene hard and proving punk lives in Orlando, FL. They have shared the stage with bands like Agent Orange, Lower Class Brats, Left Alone, Born To Lose, Black President, Druglords Of The Avenues, The Flatliners, Gang Green, 25 Ta Life, Teenage Bottlerocket, The Heart Attacks, The Cute Leppers, Static Thought, Green Jelly(Green Jello), Antidote, The Copyrights, The Boils, Blitzkid, Public Serpets, Destroy Everything, and several other national acts and amazing FLA bands that you have never heard of. With a year under their belts, they just got back from their 1st full US tour after 4 east coast tours. Be on the lookout for upcoming releases in the spring, and keep checking back for updates on their new album with a scheduled release date of summer of '09.
Started: 2007
Members: Alex - Guitar & Vocals
Justin - Guitar & Vocals
Ben - Bass & Vocals
Jason - Drums & Vocals
Location: Orlando, Florida
Influences: Rancid, Social Distortion, Bouncing Souls, The Clash, Cock Sparrer, Bombshell Rocks, H2O, Stiff Little Fingers, Operation Ivy, G.B.H., Ann Beretta, Bad Religion, Dropkick Murphys
Sounds Like:
Next Show: 3-12-2010 @ Churchills Miami Florida w/ Unit Six, O.P.S., The Actuaries and more.

Copyright © 2005-2022 Jack, All Rights Reserved.
Powered by: