June 2010 Featured Band
Every month, a randomly selected band will be featured here. If your band wants to be featured on this page,
click here
.
The Epitomees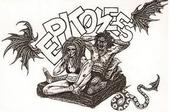 http://www.myspace.com/theepitomees
The Epitomees have been around since 1991. Taking breaks here and there. Re-hab, Jail exctra. We're from Vancouver, B.C. and are currently recording new material for a split release.
Started: 1991
Members:
Jay Epitomee - Axe
Wif Epitomee - Vox's
Jimi Epitomee - Drums
Jef Epitomee - Bass
Location: Vancouver
Influences: The Meatmen, GG Alen, Anti-seen, The Mentors, Johnny Winter, The Exploited.
Sounds Like: Raw Punk Rawk!!!
Next Shows:
July 2nd at The Century House, Vancouver
July 6th at Kellowna, Rutland Hall (all ages)
July 7th at Verns Bar, Calgary
July 8th at The Distillery, Edmonton
July 9th at DV8 Tavern, Edmonton
July 10th at New City Likwid Lounge, Edmonton
July 11th at Third, Prince George (all ages).

Copyright © 2005-2022 Jack, All Rights Reserved.
Powered by: