April 2021 Featured Band
Every month, a randomly selected band will be featured here. If your band wants to be featured on this page,
click here
.
Mad Nona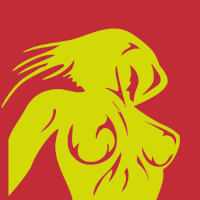 https://madnona.com/
From the land of the ice and snow (as the great Zeppelin put it) Mad Nona, a new addition to the rock and roll scene was formed late 2019 by Arnar Fridriksson and Thor Fitzgerald. It all began with a scream from a mutual friend of the band's creators at our vocalist while performing at a pub on a Saturday night shouting: "What the hell are you doing here bro, you are wasting your goddamn rock-vocal talent for drunk people at a goddamn pub!" Well, his words got in his head and just a week later Mad Nona was born. Although we are a group of bunch of dads whom to some think are wasting their time truthfully, we have never felt more alive. Therefore, during Covid19, whilst that goddamn virus pandemic was causing lock-downs, jeopardizing people's health and threatening lives, we stayed home at Fitzgerald's place, bounced some old riff ideas of each other, wrote new ones and slowly progressed our style. The pair then reached out to drummer Kristjan B. (Pearl & Paiste artist), after having his name repeatedly being brought up to their attention. Heavily influenced by the infamous Seattle sound, the tasty riffs of blues-rock and the headbanging effect of metal we never in a million years thought this mix could work so well together. So, powered by aggressive riffs, energetic vocals and powerhouse drum style Mad Nona, with their envisioned sound which takes you for a ride, followed with words which many can relate to, we introduce Mad Nona.
Started: 2019
Members:
Arnar Fridriks - Lead vocals/guitar
Thor Fitzgerald - Lead guitar/vocals
Kristjan B. Heidarsson - Drums
Agust Gustafsson - Rhythm guitar
Thorbjørn Gísli - Bass guitar
Location: Reykjavik
Influences: Seattle grunge era(Soundgarden, Nirvana, Pearl jam, Van Halen, Led Zeppelin, Motley Crue, Audioslave, Guns N Roses, Deftones and more.
Sounds Like: Motley Crue would have a love child with Soundgarden, which was raised by Guns N Roses and van Halen as step-parents.
Next Shows:

Copyright © 2005-2022 Jack, All Rights Reserved.
Powered by: