August 2014 Featured Band
Every month, a randomly selected band will be featured here. If your band wants to be featured on this page,
click here
.
The Tone Junkies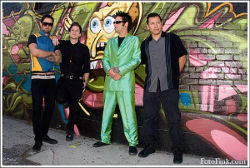 http://www.myspace.com/thetonejunkies
Roots of Orange County punk rock! In your face, loud, layered punk rock n roll!!
Started: 2006
Members:
Dave DuPre
Mike Colon
Barry Martin
Rene Hernandez
Location: Orange County, California
Influences: Old School punk rock. AC/DC, Social Distortion, Agent Orange, etc.
Sounds Like: Pure Punk Rock n Roll!
Next Shows:

Copyright © 2005-2022 Jack, All Rights Reserved.
Powered by: