November 2022 Featured Band
Every month, a randomly selected band will be featured here. If your band wants to be featured on this page,
click here
.
Twothirteen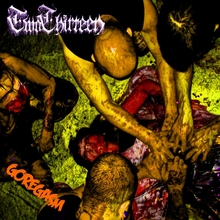 https://www.myspace.com/twothirteenmurders
A horror band from Columbus, GA that mixes punk rock with metal to create a very unique sound. Imagine The Misfits meets Blood for Blood with some black metal influence.
Started: 2005
Members:
Chad DarkWait - Guitar/Vocals
Derek Dodd - Bass
Zack Dees - Drums
Allen Nasty - Main Vocals and Self Mutilation

Location: Columbus, GA
Influences: This Misfits, Samhain, Blood For Blood, Mayhem, Emperor, and all things evil.
Sounds Like: The Misfits Earth AD on Crack Rock!
Next Shows:

Copyright © 2005-2023 Jack, All Rights Reserved.
Powered by: